It's one of traditional Indonesian snack-favorite one. In some places people also eat them as side dish accompanying their main dish. Some areas have different name for it, some call it "Ote-ote" while other area call it "koheci" or "weci" or mostly people call it Bakwan sayur.
Content of mostly vegetables with flour to make thickened, some area put shrimp in it. But generally it's fried vegetables. Serve it warm is always better way to enjoy it, with sambal petis (dark shrimp paste sauce) and birdeye chilly
Ingredients:
• 1 cup fresh shrimp, discard tail and head
• 1 cup bean sprouts
• 1 cup julienn cut cabbage
• 1 cup
roughly
shaved carrot / cut into matchsticks
• 1 cup celery leaves chopped
• 1 ½ cup flour
• pinch of
baking powder (optional)
• 1 small egg, beaten
• Enough water
• Enough Cooking oil for frying
Puree/ ground these ingredients:
• ½ medium onion (or 4 small red onions)
• 3 cloves garlic
• 1 ½ tsp peppercorn
• 1 tablespoon granulated sugar (or to taste)
• Salt and sugar to taste
How to make:
1) mashed/ puree: onion, garlic, pepper, salt and sugar. Puree also shrimp heads and tails into it.
2) In a large bowl, combine all vegetables, flour, baking powder, ground spices, shrimps and eggs. Give enough water slowly~just enough for wet the flour and all ingredients (not too watery). Stir it all until blended, sample a taste, give the broth flavoring if desired.
3) Heat oil over medium heat, fry the dough a spoonful after spoonful. Fry until pink and cooked through.


Note: if you want to have round shape like mine, heat serving soup spoon into hot oil, make sure the ladle is really hot (if not, the dough will be sticky on it). Then put the dough onto hot ladle, place shrimp on top and dip into the hot oil until the dough is separated by it self from the ladle.

Serve warm with chili sauce or birdeye chillies.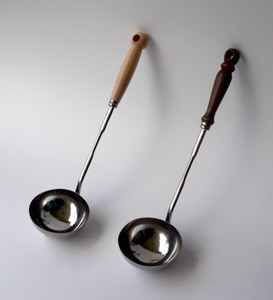 BAHASA INDONESIA
loading...